1911 Match Grade Barrels
A good properly fitted match quality barrel is one of the critical steps in getting the best possible performance out of your 1911 pistol. The barrel however is just one part of the system responsible for accuracy and replacing the barrel alone without paying attention to other items such as frame to slide fit, lock up and barrel bushing will lead to disappointment. Performance, accuracy and function can actually be degraded by a poor fitting barrel.
Suggested reading material for anyone considering working on a 1911 pistol are two fine books by JERRY KUHNHAUSEN.
Click the images below for more information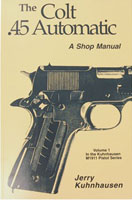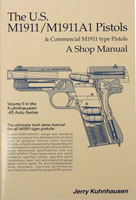 1911 Match Grade Barrel Manufacturers
I have a pretty strong preference regarding what barrels I will use in my 1911's. Below is my recommendations in no particular order.
Kart Precision Barrel Corp
While I'm sure there's others making quality 1911 barrels these are the brands I use and trust in all my handguns
1911 Barrel Types
---
The standard GI Barrel
---
The ramped barrel is as its name implies. The barrel has an integral feed ramp machined into it. The ramped 1911 barrel was designed out of necessity for shooting high pressure cartridges like the .38 Super. These higher pressure cartridges require the case to be fully supported for safety. Feeding reliability is not improved over a properly setup GI barrel. Ramped and un-ramped barrels cannot be interchanged. A 1911 frame must be machined to accept a ramped barrel.
---
1911 Bull Barrels
---